Stigler Lecture Series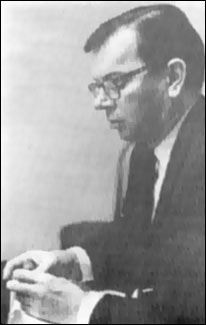 This lecture series in Anthropology and Archeology is supported through a trust established by Mr. and Mrs. Robert L. Stigler of Pine Bluff, Arkansas, in their son's memory. Its purpose is to bring distinguished scholars to address the university community and the public on diverse archeological topics. The Stiglers' generous endowment of this lecture series is an especially fitting memorial to their son, who enjoyed a wide-ranging professional career in archeology, and provides opportunities for all of us to share in the knowledge of past peoples and cultures.
Robert Leath Stigler, Jr. (1921-1980) was born in Monroe, Louisiana, and attended public schools in Little Rock and Pine Bluff. He was an honors graduate in 1939 of Pine Bluff High School and in 1942, after three years of undergraduate study, received a Bachelor of Arts degree in economics and political science from Vanderbilt University. After serving in the U.S. Navy during World War II, including intelligence duty in the southwestern Pacific and in post-war Japan as part of the Strategic Bombing Survey, Stigler attended graduate school at Columbia University and received a Doctor of Philosophy degree in anthropology in 1954. Most of Stigler's professional career was associated with Columbia, where he served as a research assistant (1950-1953), an instructor (1954-1957), and a lecturer/projects administrator (1962-1978). He also served as an assistant professor at Brandeis University (1957-1960) and as the director of that university's Middle East Archaeology Project to Iran and Israel. In 1962, he co-directed a Peace Corps training program in Jamaica.
Dr. Stigler's Ph.D. dissertation dealt with prehistoric pottery from northern Peru. He also conducted archeological research at sites in the American Southwest (Colorado and Arizona), in Japan, and in North Africa (Egypt and Sudan). He was a Fellow of the American Anthropological Association, and held memberships in the Society for American Archaeology and the American Association for the Advancement of Science. In addition to writing technical reports and articles, he edited two books for St. Martin's Press, "The Old World: Early Man to the Development of Agriculture" (1974) and "Varieties of Cultures in the Old World" (1975).
Bob Stigler passed away in 1980 in Pine Bluff after a long illness.