2011-2012
6:30 p.m. Giffels Auditorium, main floor, Old Main
Professor Vincent Gaffney, Chair in Landscape Archaeology and Director of the IBM Visual and Spatial Technology Centre at the University of Birmingham
Lecture: The Hidden Landscapes of Stonehenge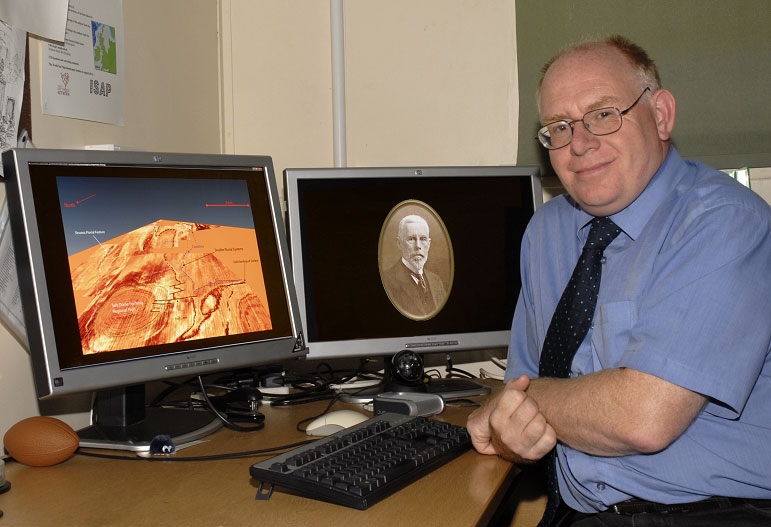 Stonehenge may well be the world's most iconic prehistoric monument and has been the subject of archaeological and antiquarian research for several hundred years, Whilst recent studies have provided an unparalleled digital and archaeological database for the site and its immediate environs much of the Stonehenge landscape remains, effectively, terra incognita. In fact, the historic research emphasis on the monuments has rarely permitted a rigorous analysis of the wider landscape in relation to the emerging complexity of the archaeological structures. In recent years teams from the University of Birmingham (UK) and the Ludwig Boltzmann Institute for Archaeological Remote Sensing have undertaken extensive geophysical survey covering nearly 7 km2 of the world heritage landscape of Stonehenge Envelope. This research has provided a wealth of new information and also revealed significant monuments within areas that, previously, were blanks on the archaeological map. This lecture presents this new data and considers how such research will lead to a reassessment of this famous monument and its wider landscape.
Professor Vincent Gaffney studied archaeology at the University of Reading where he also took a PhD centered on the archaeology of the Central Adriatic Islands. His recent projects have included mapping the inundated landscapes of the Southern North Sea, agent-based model of the battle of Manzikert (1071) in Anatolia, and the "Stonehenge Hidden Landscapes" Project where he leads the UK team creating 3D and virtual imaging of the landscape. He is a Co-PI on the EPSRC Gravity Gradient Project providing imaging for novel gravity sensor development. Other fieldwork has included a major project investigating Roman Wroxeter, survey of Diocletian's Mausoleum in Split, the wetland landscape of the river Cetina (Croatia), fieldwork in Italy, centered on the Roman town at Forum Novum, historic landscape characterization at Fort Hood (Texas) and internet mapping of the Mundo Maya region. Professor Gaffney has wider interests in knowledge exchange and co-PI'd the ERDF/AWM-funded Visual and Imaging Network for the West Midlands industrial region. Vince has received national and international awards for his work including the Queen's Anniversary Prize for Higher Education. His work on inundated marine landscapes received the 2007 award for Heritage Presentation at the British Association for the Advancement of Science and his book Europe's Lost World was awarded the "Best Publication" prize at the British Archaeological Awards in 2010. The UK Institute of Field Archaeologists has also recently selected the project as one of the best of the past decade and RCUK selected as one of 100 groundbreaking UK research projects as part of its "Big Ideas for the Future" publication.
Dr. Gaffney will also give a talk sponsored by Anthropology, Geociences, and the Environmental Dynamics Program on Monday, April 9, 4 pm in JB Hunt 148 under the title: "Europe's Lost Land: The Rediscovery of Doggerland."
November 28, 2011
6:30 pm, J.B. Hunt Lecture Theater 216
Jarrod Burks, Ph.D., Director of Archaeological Geophysics at Ohio Valley Archaeology, Inc., Columbus, Ohio
Lecture: Rediscovering Ohio's Ancient Earthwork Sites Using Remote Sensing—Revealing the Hidden Secrets of Adena and Hopewell Ceremonial Sites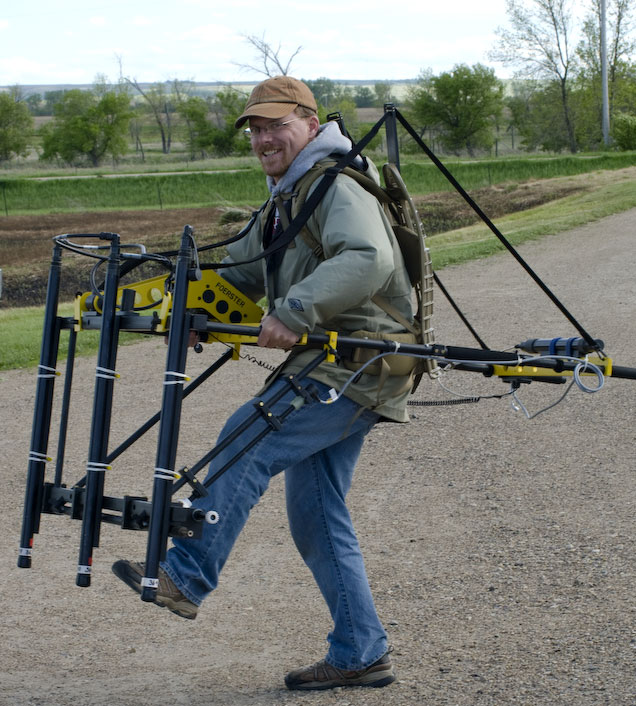 Dr. Jarrod Burks is Director of Archaeological Geophysics at Ohio Valley Archaeology, Inc., a private archaeology firm in Columbus, Ohio. He received his Bachelor's degree in Anthropology/Archaeology from the University of Illinois at Urbana/Champaign and continued in the same fields with his Master's and Ph.D. from The Ohio State University. Prior to graduation he worked for the National Park Service at Hopewell Culture National Historical Park and maintains his ties with the NPS through participating as an instructor in their annual workshop on geophysics and remote sensing. While Dr. Burks' doctoral work focused on studying Hopewell settlement, his introduction to a magnetometer while in graduate school sparked a love affair with geophysical survey and archaeology that has blossomed into a full-time job. At work he surveys all kinds of archaeological and historical sites, from cemeteries and urban lots to 2000-year-old Native American camp sites and even George Washington's front yard. On the weekends and during other free time, you can find Jarrod, magnetometer in hand, surveying one of the many hundreds of Native American earthwork sites built in Ohio between 400 B.C. and A.D. 500. Dr. Burks, along with several co-authors, has written numerous chapters focused on Hopewell and Woodland Period archaeology that appear in a variety of edited volumes, including Recreating Hopewell; Woodland Period Systematics in the Middle Ohio Valley; In the Footprints of Squier and Davis: Archeological Fieldwork in Ross County, Ohio;andHopewell Settlement Patterns, Subsistence, and Symbolic Landscapes. Two coauthored articles, one on the use of geophysics at Ohio earthwork sites and the other on using geophysics and more traditional archaeological methods to study Fort Ancient culture site structure, have recently appeared in or been accepted for publication in the journal American Antiquity.
Acknowledgements
Funding provided by the Robert L. Stigler, Jr. Trust, the Digital Institute for Archaeology, the Archeo-Imaging Lab, and the J. William Fulbright College of Arts and Sciences.