2012-2013
February 26, 2013
6:30 p.m. Giffels Auditorium, main floor, Old Main, University of Arkansas
John Kantner, Vice President for Academic & Institutional Advancement, School for Advanced Research, Santa Fe, New Mexico
Lecture: Chaco Canyon: From the Outside Looking In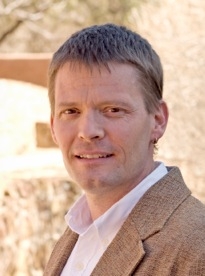 The ancient ruins of Chaco Canyon in northwestern New Mexico stir our imagination with questions about their origins, purpose, and demise. Historically, research has concentrated on the stunning architecture and what transpired within the canyon walls. In the past few decades, however, archaeologists have turned to a consideration of Chaco's tremendous impact across the American Southwest, especially in distant villages that lived in the shadow of Chaco Canyon. In this colorfully illustrated lecture, Southwest archaeologist John Kantner describes how new interdisciplinary research is answering critical questions about the ancient Chacoan world.
John Kantner was an associate professor of anthropology at Georgia State University prior to becoming vice president of the School for Advanced Research in 2006. A native of Santa Fe, he is an anthropological archaeologist investigating the respective roles of cooperative and competitive behavior in the development of sociopolitical inequality among small-scale societies. Dr. Kantner has conducted field research throughout Latin America and the United States, and he currently directs the Lobo Mesa Archaeological Project that is reconstructing the Pueblo Indian world of the American Southwest during the 10th and 11th centuries. His 2004 book, Ancient Puebloan Southwest (Cambridge University Press, 2004), explores the development of the Chaco Canyon pilgrimage center as an outgrowth of competitive behavior in the face of changing climatic conditions. A central theme of this work is the impact of Chacoan religion and ideology on the ensuing millennium of Pueblo Indian history. Dr. Kantner's publications appear in journals such as Human Nature, Journal of Anthropological Archaeology, Journal of Archaeological Research, Journal of Archaeological Science, and Historical Archaeology.
Recent Publications:
2012 Patterning in procurement of obsidian in Chaco Canyon and in Chaco-era communities in New Mexico as revealed by X-ray fluorescence. Journal of Archaeological Science 39(9): 2995–3007(with Andrew I. Duff , Jeremy M. Moss, Thomas C. Windes, and M. Steven Shackley).
2012 Pilgrimage as costly signal: Religiously motivated cooperation in Chaco and Nasca. Journal of Anthropological Archaeology 31(1):66–82(with Kevin J. Vaughn).
2012 Realism, reality, and routes: Evaluating cost-surface and cost-path algorithms. In Least Cost Analysis of Social Landscapes: Archaeological Case Studies, edited by Devin A. White & Sarah L. Surface-Evans, pp. 225–238. University of Utah Press, Salt Lake City.
2010 Applying behavioral ecology to complex human behavior: Resource monopolization, package size, and turquoise. Journal of Anthropological Research. 66(2):231–257.
2010 Identifying the pathways to permanent leadership. In The Evolution of Leadership: Transitions in Decision Making from Small-Scale to Middle-Range Societies, edited by John Kantner, Kevin Vaughn, and Jelmer Eerkens, pp. 249–281. School for Advanced Research Press, Santa Fe.
2006 The Chaco World. In The Archaeology of Chaco Canyon, edited by S. Lekson, pp. 153–188. School of American Research Press, Santa Fe (with Keith Kintigh).
Acknowledgements
Funding provided by the Robert L. Stigler, Jr. Trust.
November 13, 2012
6:30 p.m. Giffels Auditorium, main floor, Old Main, University of Arkansas
Michael B. Collins, Research Professor of Anthropology at Texas State University, San Marcos
Lecture:North America Before Clovis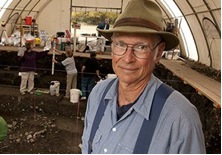 A review of the archaeological evidence in the Western Hemisphere, particularly in North America, indicates that the peopling of the Americas began sometime greater than 20,000 years ago. The result is a complex cultural history that places Clovis at about the midpoint in its chronology. I discern at least 7 older-than-Clovis archaeological manifestations which, in aggregate, suggest that people had interacted with Pleistocene megafauna for millennia before the late Pleistocene extinctions, that the technological origins of the early cultures appear to derive from both Europe and Asia, and that sophisticated maritime adaptations led to discovery of the Americas by people plying waters of the Pacific as well as the Atlantic.
Dr. Collins traces the beginnings of his interests to a fascination with archaeological illustrations in a children's encyclopedia that he saw at about age 5 years. This interest manifested itself a few years later when wind erosion during the drought of the 1950s near his home in Midland, Texas, exposed Pleistocene animal fossils and an abundance of archaeological sites. Among his early finds were various Paleoindian artifacts that, along with the fossil bones and guidance in the ways of science from a number adults, defined a career path combining geology and archaeology and a life-long interest in the earliest cultural evidence in the New World. Formal education led to three degrees in Anthropology: BA (1965) and MA (1968) the University of Texas at Austin and PhD (1974) The University of Arizona. He has worked in the Near East and Europe, as well as in North, Central, and South America with emphases in lithic technology, geology of archaeological sites, human osteology, general prehistory.
At Texas State University, Dr. Collins teaches and conducts research on a variety of projects, including investigations at the Gault Site in Central Texas. Previously, he was on the anthropology faculty at the University of Kentucky (1971-1982), acting director of the Museum of the Southwest in Midland, Texas (1982-1983), Senior Staff Archaeologist with Prewitt and Associates in Austin, Texas (1985-1988) and Research Associate at the Texas Archeological Research Laboratory at UT-Austin (1988-present). Some of his 180 publications include the following:
Foreword in Across Atlantic Ice by Dennis J. Stanford and Bruce A. Bradley. University of California Press. Bekeley (2012)
The Buttermilk Creek Complex and the Origins of Clovis at the Debra L. Friedkin Site, Texas. Science 331(6024):1599-1603 (with Michael R. Waters et al., 2011)
Acknowledgements
Funding provided by the Robert L. Stigler, Jr. Trust, the Digital Institute for Archaeology, the Archeo-Imaging Lab, and the J. William Fulbright College of Arts and Sciences.